Welcome to Perretta Law Office, experienced in all types of U.S. Immigration Law and representing individuals in all 50 states and abroad. Immigration Law is extremely complex and an area of law where having a trustworthy, honest attorney will significantly impact your case. Competent legal representation can make the difference between staying in the U.S. and being forced to leave.
If you are seeking to immigrate to the U.S. or are already living in the U.S. and would like more information on immigration options for yourself, your relatives or employees, please contact one of our experienced attorneys for a consultation.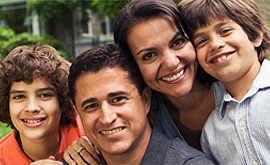 If you are a refugee, permanent resident, or citizen of the U.S. you can file immigrant petitions for your family members which can include your minor or adult children, parents, siblings and spouse. We have many years of experience handling consular processing for family members that are abroad, even those who need waivers for prior deportation orders or unlawful presence.
If you are a permanent resident of the U.S., we can advise you of your eligibility to naturalize. Many factors can cause a denial of naturalization and a permanent resident can even be placed in deportation proceedings for crimes and other grounds. Make sure you are eligible before you apply.